A Stranger Is Accused Of Throwing A 5 Year Old Over The Balcony At Mall Of America




A man has been arrested and accused of throwing a 5 year old boy over the balcony of a mall near Minneapolis.



According to reports Emmanuel Deshawn Aranda,24 threw a 5 year old boy from a third floor balcony at Mall Of America Friday afternoon.
Emergency crews arrived and transported the child to a nearby hospital where he remains hospitalized Saturday in serious condition. The boys name has not been released due to the parents asking for privacy.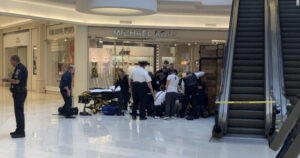 Aranda was arrested after the incident and jailed on a suspicion of attempted homicide charge.
Detectives do not believe Aranda knew the victim or his family prior to the incident.


This investigation is ongoing.