Co Star Of Dog The Bounty Hunter, Beth Chapman Dies At 51




Beth Chapman wife of Duane "Dog" Chapman died early Wednesday morning after battling cancer for almost 2 years.


According to a family spokesperson Chapman passed away around 5:30am at Queen's Medical Center in Hawaii with her family by her side.
Chapman was first diagnosed with throat cancer back in September of 2017 after going to the doctor for a cough. She had surgery to have the tumor removed and was considered cancer free.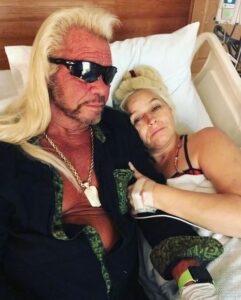 In November of 2018 Chapman went back to the doctor and was diagnosed with stage 4 lung cancer.
Duane Chapman took to Twitter early Wednesday morning posting "This is the time she would wake up to go hike KoKo Head Mountain, Only today she hiked the stairway to heaven. We all love you Beth. See you on the other side".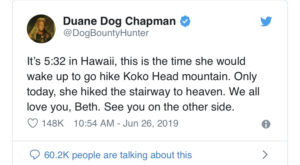 Duane and Elizabeth met in Hawaii back in 1986 and married one another in 2006. Beth had two children from a previous relationship and two more children with husband Duane.