Justice For Kamille "Cupcake" McKinney and Justice For Nevaeh Adams




Nevaeh Adams,5 was killed along with her mother Sharee Bradley,29 and then dumped into a dumpster in August. Adams remains were found two months later in a South Carolina landfill. Daunte Johnson,28 was arrested and charged with both murders.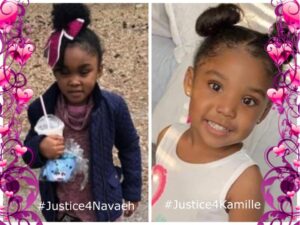 Kamille "Cupcake" Adams,3 was kidnapped at at a birthday party on October 12 and her lifeless body was found in a Birmingham landfill Tuesday evening. Patrick Stallworth,39 and Derick Brown,28 were both arrested and charged with the kidnapping and murder of Kamille's death.