Police Looking For Man They Say Robbed And Killed A Store Clerk While Wearing A Surgical Mask In Rendon Tx




Tarrant County Sheriff's are searching for a man they say robbed and killed a store clerk at a neighbor convenience store near Ft.Worth Friday morning.
Officers responded to a shooting/ robbery on the 4500 block of E. FM 1187 at the Super Big Country Mart and when they arrived they found a store clerk deceased from a gunshot wound.
The suspect stole money from the register and took the victims dark gray Toyota Sienna minivan with Tx plates reading GPB0449.
The suspect was described as having medium brown skin and a stocky build. He was wearing a surgical mask across his face, a white ball cap with a red bill, a blue hoodie, gray pants, black shoes and one glove.
Police are also looking for a man that entered the store moments before the robbery for questioning.
He is described as a male wearing a plaid shirt and a white baseball cap. He was driving a white four door passenger car.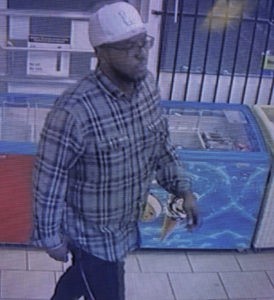 The victims name has not been released at this time.
This investigation is ongoing.