Atlanta Mother Charged With Murder After Crashing Into Car And Killing Daughter




An Atlanta woman has been arrested after she purposely crashed her vehicle into her child's fathers car and killed their infant daughter.
According to reports Titayanna Phillips,21 intentionally rammed her car into her child's father Undra Henderson,27 vehicle while he was stopped at an intersection on Chappell Rd.
He had their 3 month old daughter Khy'Undra Henderson in the car with him at the time of the crash.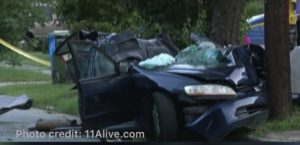 Emergency crews arrived to the scene and transported Henderson and his daughter to the hospital but the daughter died from her injuries.
Henderson is listed in stable condition.
Phillips was arrested at the scene and charged with murder and two counts of aggravated assault.