California Mother Homeless After Being Evicted With 6 Month Old Twins




A California mom was evicted from her apartment 6 months after giving birth to twin boys during the COVID-19 pandemic.
Rosana Sastrami and her 6 month old twins Elijah and Elias were living out of a car shortly after they were evicted from their Vallejo home in July.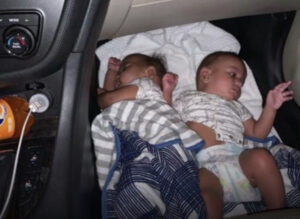 Although an eviction moratorium is in place blocking evictions, there are many exceptions and people are still being evicted.
Sastrami was the property manager at the Vallejo Mobile Home Community and RV Park and because of her job she lived there for free. Her eviction papers state she was fired for substandard performance and denied her claims of harassment and discrimination.
Sastrami says after living out of her car for several weeks someone offered her money and pointed her in the direction to seek shelter.
Since then she has been living in a homeless shelter with her two small twin boys and her oldest 13 year old son, who was unable to come with her has had to move in with his father.
Sastrami has since created a Gofund me page and any proceeds will go to finding her a place to stay.