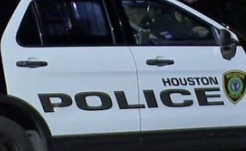 A robbery suspect is dead and a 1 year old infant was injured during an officer involved shooting Wednesday night.
According to reports officers located a black Mercedes Benz that was suspected in a robbery and tried to perform a traffic stop.
During that time the suspect failed to stop and a chase ensued.
The suspect eventually crashed out at a gas station at 7931 Southwest Freeway where a young woman was pumping gas and the suspect hopped inside her car.
As officers approached the vehicle they spotted a weapon inside and a 15 year veteran opened fire multiple times striking the suspect.
The suspect was pronounced dead at the scene.
During investigation officers learned that a 1 year older infant was in the backseat and also struck by a bullet.
The child was transported to a nearby hospital in stable condition.
The investigation remains ongoing and the officer will be placed on administrative leave pending the outcome of the investigation.