13-year-old graduates with science and cybersecurity degree from Oklahoma City Community College
Jay Wiggins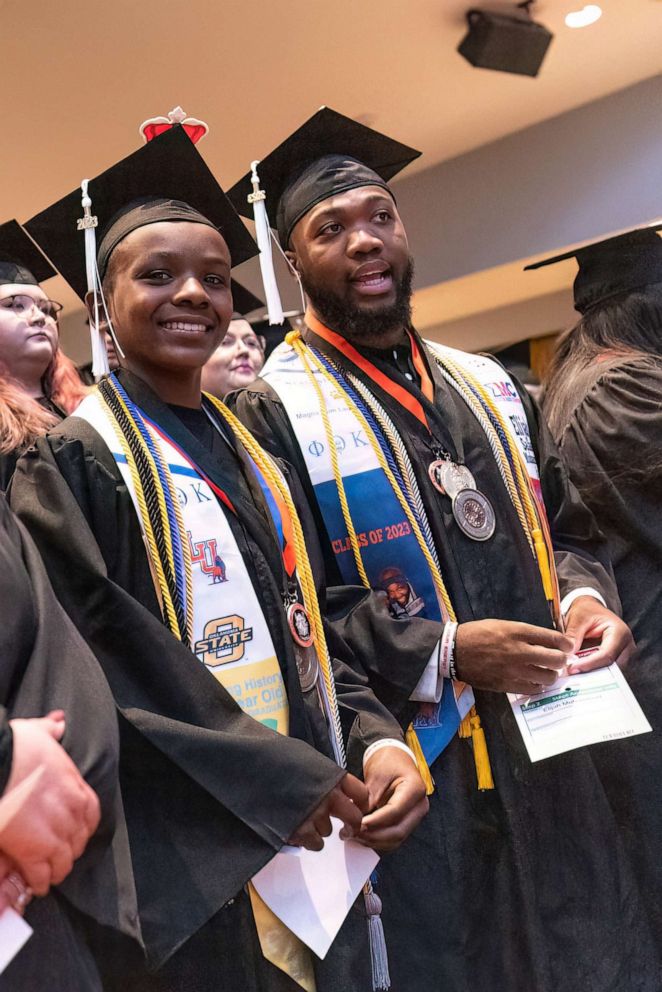 Elijah Muhammad is a 13-year-old college graduate, an achievement that few kids his age can claim.
The young boy walked the stage at Oklahoma City Community College after earning his associate's in computer science and cybersecurity.
Elijah told ABC News affiliate KOCO that he also has 10 IBM certifications and one Google IT certification, he is also pursuing a bachelor's degree at Oklahoma State.
"My dad has a homeschool program called Pro One Collegiate Academy and it basically accelerates your learning into things that you're interested in," Elijah told "Good Morning America." "So, since I was interested in cybersecurity, it accelerated me in that and I was able to go to college early."
Some of Elijah's college classmates thought that another adult in the classroom was babysitting him, he said.
"I told them that I was actually in this class at my age, they were surprised at first," he said. "They thought I would just be quiet in class. But when I asked questions and I was interacting with the class, they were more surprised."
 Shania Muhammad, Elijah's older sister, told KOCO her brother is "the smartest person I know."
"And regardless of if you're older or not, it's like I've never seen [anything] like him," she said.
Shania graduated from Langston University at only 15 years old. She worked with Elijah and helped inspire him to graduate early.
"I got two associate's degrees at 14 years old, and I kind of did the same process," said Shania. "That's why I just went on to do my bachelor's. I completed everything in two and a half years. So I was just kind of exploring and just having fun, but it turned out quite amazing."
Elijah said  the siblings are competitive but he added: "When someone else needs help, we're all there to help each other out."
Elijah also makes time for other activities he enjoys, such as swimming and basketball. He hopes to help others reach their goals and is also a motivational speaker.
"If you want to put your mind to making a 4.0, you can do it," he said. "If you want to put your mind to winning a state championship, you can do it. You just gotta put in the work that it takes to accomplish that."
<iframe width="560″ height="315″ src="https://www.youtube.com/embed/8KKrr4n1u0c" title="YouTube video player" frameborder="0″ allow="accelerometer; autoplay; clipboard-write; encrypted-media; gyroscope; picture-in-picture; web-share" allowfullscreen></iframe>
Tags :
13 year old
13-year-old college student
College graduate
college kid
cybersecurity
Oklahoma